+ Ayo @ Palau de la Música +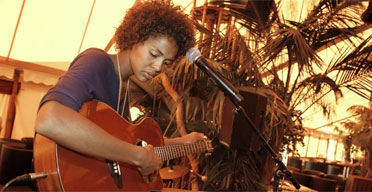 De orígenes nigerianos y rumanos, la música de Ayo se mueve entre el soul, el folk y el reggae más contemporáneo. Esta parisina de adopción, nacida en Alemania, no sólo canta sino que, al mismo tiempo, destila pura dulzura al ritmo de una elegancia puramente relajada y natural. Tras su primer disco Joyful, el miércoles 21 estará en el Palau de la Música de Barcelona, dentro del Festival Mil.leni, presentando Gravity at Last, su segundo trabajo.
        +++++
        With Nigerian and Romanian origins, Ayo music moves among soul, folk and, a totally contemporary, reggae. This German borned-adopted Parisian does not only sing, but at the same time oozes pure sweetness to the rythm of her natural and relaxed elegance. After Joyful, her album debut, next Wednesday 21st she will be performing at Palau de la Música in Barcelona, whithin the framework of Festival Mil.leni, presenting Gravity at Last, her second and brand new album.
[youtube=<object width="425" height="344"><param name="movie" value="http://www.youtube.com/v/TTdw2HjOr-Q&hl=es&fs=1"></param><param name="allowFullScreen" value="true"></param><param name="allowscriptaccess" value="always"></param><embed src="http://www.youtube.com/v/TTdw2HjOr-Q&hl=es&fs=1" type="application/x-shockwave-flash" allowscriptaccess="always" allowfullscreen="true" width="425" height="344"></embed></object>]
Related Posts: